Developing Your Carriage Trade Marketing Plan
Comer Consulting, LLC, is sponsoring a tele-workshop for financial advisors. Called Developing your Carriage Trade Marketing Plan, the workshop will guide you through the process of creating a marketing plan to reproduce the best clients in your practice. You will receive tools to complete your unique marketing plan during the sessions.
The workshop will be presented as a series of four, 90-minute group discussions with six to 13 participants* and a concluding one-on-one session with John Comer, CFP®, principal of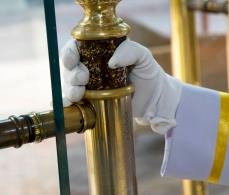 Comer Consulting. During the workshop, you will identify the unique activities that match your strengths and the needs of your clients. These activities will be scheduled with sufficient frequency to achieve your growth targets. You will also develop key messages to help demonstrate your understanding of the client's most important needs.
Whether your marketing plan calls for deepening your relationship with existing clients, for acquiring new clients through referrals or for developing new client leads from other sources, this marketing workshop will help you coordinate your activities.
Please contact us to inquire about the next session.
We will develop one marketing plan for each of the participants registered. More than one person from your office can listen in on the calls but please have only one person speaking for your office. You will receive dial-in information and the first set of worksheets upon registration.
Tuition for the five workshop sessions plus workshop materials is only $1,000.00
*If 14 or more participants enroll, an additional series of sessions will be scheduled. Participation will not exceed 26 advisors/teams so please sign up early to ensure your spot.